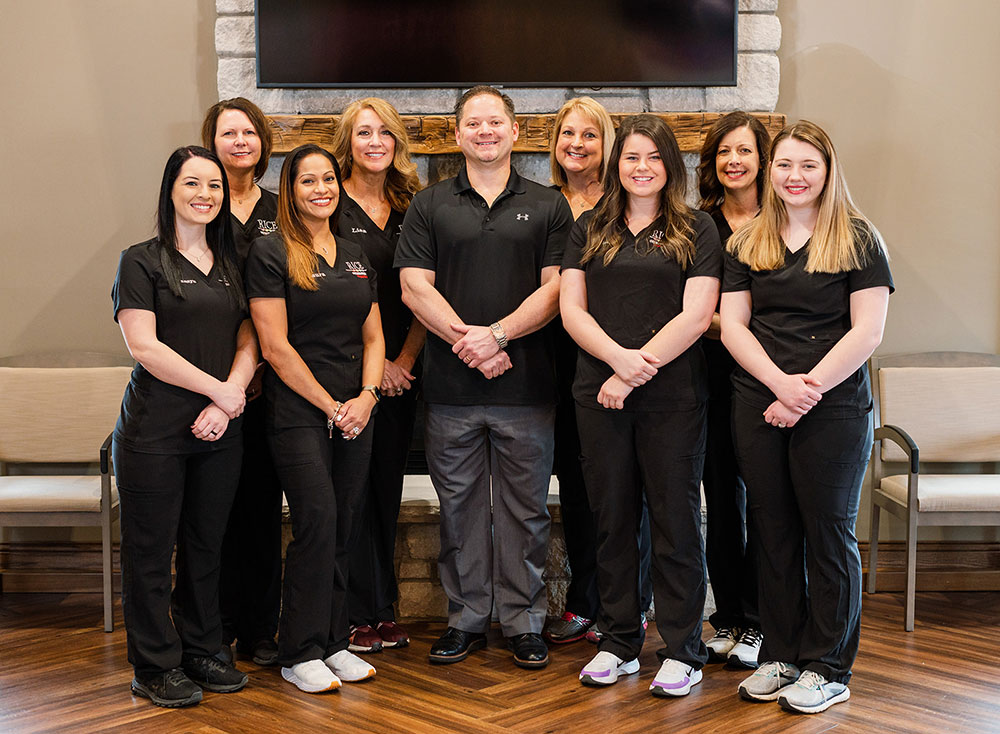 We recognize that all our patients are unique and deserve to receive orthodontic care that reflects their individual needs. Our experienced and talented team is committed to working with you and your family to create a comfortable, stress-free, and rewarding orthodontic experience every time you visit our practice.
We are pleased to welcome you and your family, and we look forward to working with you.
---
Gay Lynn
I have been an orthodontic assistant and lab coordinator for Rice Orthodontics for eighteen years, and have worked in this field for more than 20 years. It is a joy to come to work every day and watch kids grow and change at each appointment. Seeing their wonderful smiles at the end of treatment is always worth it! Dr. Rice loves his practice and truly cares about his staff and patients. We're really like a family here!
My husband Steve and I have been married for 33 years. We have three grown children — sons Austin and Aaron, and daughter Shea — we're very proud of. I love animals and have been known to help lost pets find their way back home! In my free time, I love to go on vacation, decorate, cook, and spend time with my family.
Julie
I am our inventory coordinator and have been a clinical assistant for Dr. Rice for seven years. I've always loved interacting with people of all ages, but kids are my passion. I try very hard to make everyone feel comfortable when they arrive in our office. With 29 years of experience in orthodontics, the greatest part of my job is seeing the satisfaction on each patient's face when treatment is completed and they can't stop smiling. That's when I know that I've helped someone feel better about themselves. Dr. Rice has compassion for his patients, staff, and community, as well as a drive to keep up with the latest technology in orthodontics. Our entire team gives 100% every day!
My husband Billy and I have two children, Blake and Ben, a poodle named Hershey, and an American bulldog named Chance. I enjoy outdoor activities, especially relaxing vacations to the beach, as well as camping, traveling, and Zumba. I am also very active in my community.
Jeanna
I have been a clinical assistant at Rice Orthodontics since 2010, but I've worked in the orthodontic field for more than ten years. I love to watch our patients grow and see the progress and changes they've made in their treatment, especially in the end. We're all so very proud to see the final results of a beautiful smile! Dr. Rice brings a fresh new outlook to orthodontics. He is very up front and knowledgeable when dealing with patients, and welcomes any questions or concerns they may have. His honesty and genuine down-to-earth attitude reflects on his staff as well as everyone that enters his office.
My husband Melvin and I have two children, Trevor and Macy, as well as two dogs named Zoey and Duke. When I have free time, I enjoy shopping, cooking, reading, and having a great time with my friends and family.
Lori
I've been the receptionist at Rice Orthodontics since 2013 and have had the pleasure of meeting so many wonderful people! I enjoy building friendships with our patients and seeing how they gain confidence as they see the change in their appearance. Those finished smiles, and the pure happiness on a patient's face at the end, is the highlight of my work! I really appreciate how Dr. Rice and my coworkers strive to keep our patients comfortable and excited about their treatment and make it a fun experience for everyone.
The three biggest joys in my life are my children, Lauren, Reagan, and Kaitlyn. I also have a dog named Luna and a cat named Spencer. Outside of my family, being involved and spending time with my church family is very important to me.
Rachel
I've been an orthodontic assistant for Dr. Rice since 2015, joining the practice as soon as I graduated from dental assisting school. I am happy working with such an experienced, compassionate team: everyone is knowledgeable, helpful, and supportive and we create incredible smiles. I love witnessing patients' progress. It's very rewarding to see each patient gain confidence and self-esteem as their teeth align and their smiles grow brighter!
I teach ballet every weeknight, after the office closes. I danced ballet professionally through high school and at the beginning of college. I grew up in south Florida and moved to western Kentucky in 2012 – I love it here! When not working or dancing, I love spending time with my family, including my Winston Gale, my hamster and Norway, my fish. I'm blessed to be involved in my church and attend a weekly women's Bible study as well as disciple young women in our community.